If you're looking for ideas on how to build or remodel your bathroom in the greater St. Louis area, look no further than Hoeft Construction, Inc. Our professional general contractors have the experience required to build your bathroom to your specifications, within your budget, and in a timely manner. Our contractors stand by the two-generation-strong company rule of quality over quantity. Nothing else comes close to pleasing company owner, Paul Hoeft, whose father instilled in him a passion for building quality homes at a very young age.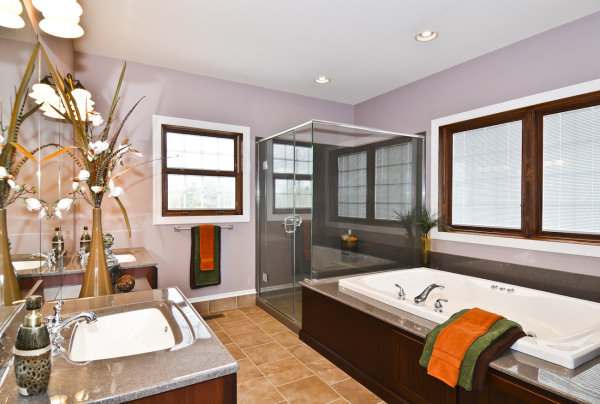 At Hoeft Construction, Inc. we begin each bathroom remodeling job by meeting you at your home to get an in-person look at your existing bathroom. We need your input in order to design, plan, and build the bathroom of your dreams. Start collecting pictures from magazines, websites, and a variety of other areas so we can be as detailed as possible when working on your new bathroom design.
While the scope of the project has little to do with our decision to redesign and remodel your bathroom, we will not sacrifice quality of service in order to cut corners or prices. Our goal is to provide the highest quality results with a newly remodeled bathroom guaranteed to impress even our most discerning clients.
Protecting Your Home and Family is Part of the Bathroom Remodeling Job
Inviting a team of contractors into your home to remodel any room is never an easy decision to make. The mess, noise, and distraction are often reason enough for a homeowner to put remodeling a bathroom off as long as possible. We understand these issues and work diligently to limit or eliminate them.
We install floor protection, zippered vertical plastic walls, and air-scrubbers in the work area to limit the amount of dust that may migrate from room to room. Our contractors are also homeowners; they clean up after themselves at the end of each work day, and again at the end of the bathroom remodel process. They don't leave dangerous tools lying around for your child or family pet to discover.
We understand that the bathroom is the second most-visited room in the home – second only to the kitchen. Bathroom remodeling projects must be handled delicately and in a timely manner to limit disruptions to family life. Our experienced contractors are well-aware of the necessity of meeting your expectations in all areas including design, build, time management, and budget.
Honesty and Integrity Still Exist in Construction
The business world is teeming with companies that only look out for their own bottom line. We believe that without honesty and integrity, no job is worth doing. We will provide a realistic plan that will fit within your budget, with no strings attached. We don't underbid our competition simply to land a job, and then bill you additionally to make up for it later.
Thank you for visiting Hoeft Construction, Inc. Before you go, take a look at our gallery of past projects to see our impeccable work on custom bathrooms. We specialize in all areas of construction including new homes, remodeling, historic renovations, and a variety of other general contracting specialties; decks, wine cellars, siding, windows, and custom bookshelves, for example. Call us at 636-343-4458, email us, or contact us via the website any time to discuss your project or your bathroom design ideas.