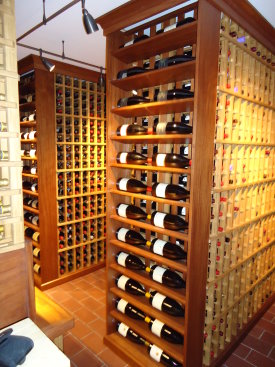 If you're looking for ideas on how to remodel your basement, or how to finish your basement, you've come to the right spot. Hoeft Construction, Inc. specializes in home improvement construction in the greater St. Louis area. Second-generation owner, Paul Hoeft, runs his building and remodeling business much the same as his father before him; quality craftsmanship is number-one.
At Hoeft Construction, Inc. we begin each basement remodeling project by meeting you at your home to get an in-person look at your existing basement. We ask that you collect pictures of elements of basements that you like so we have a good understand of how you want your remodeled basement to look and feel. The more detail you give us up front, the better our planning and design process will go.
We never choose to accept a basement project based on the scope of the project; we work on small basements just as often as large basements. We will not, however, sacrifice quality of service in order to cut prices when deciding how to remodel your basement. Our goal is to provide the quality craftsmanship people have come to expect from us.
Protecting Your Home through the Basement Remodeling Process
Our construction specialists are homeowners as well. We understand how frustrating and inconvenient it is to invite someone into your home to make a mess, all for the promise of a better design in the future. Our professional crews go the extra mile to protect your home, family, and property during the basement remodel process.
We install floor protection, zippered vertical plastic walls, and air-scrubbers in our work zones to limit dust migration to other areas of your home. We clean our work area at the end of every work day, and again at the end of the basement remodel process. We take pride in our work, and it shows in every aspect of the process.
Honesty and Integrity in the Construction Business
The business world is teeming with companies that only look out for their own bottom line. We believe that without honesty and integrity, no job is worth doing. We will provide a realistic plan that will fit within your budget, with no strings attached. We don't underbid our competition simply to land a job, and then bill you additionally to make up for it later.
Thank you for visiting Hoeft Construction, Inc. Before you go, take a look at our gallery of past projects to see our impeccable work on custom finished basements. We specialize in all areas of construction including new homes, remodeling, historic renovations, and a variety of other general contracting specialties; decks, wine cellars, siding, windows, and custom bookshelves, for example. Call us at 636-343-4458, email us, or contact us via the website any time to discuss your project or your basement design ideas.